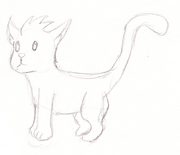 Sakanos are a typically calm,but will attack foes with their small but sharp fangs, if their territory or young are disturbed.
General Info
Height: 1'08"
Weight: 20.9lbs
Color: Gray
Type: Water
Ability: Water Absorb
Evolution: none
Gender ratio: 65% female 35% male
Breeding group: Water 1
Steps to hatch egg: 21 cycles (5355 minimum steps)
Base happiness: 35
Catch rate: 235
Base Stats
Moves
Ad blocker interference detected!
Wikia is a free-to-use site that makes money from advertising. We have a modified experience for viewers using ad blockers

Wikia is not accessible if you've made further modifications. Remove the custom ad blocker rule(s) and the page will load as expected.